It's not surprising that NVIDIA* will release a more broad range of chipset for the Intel® platform. And why not, Intel® has a very large customer base, and seeing how Chipzilla continue to hit high volume processor, even to the point of running out of chipset, it signifies that the Chip giant is never waning in its market share. Today, NVIDIA* official announced their NVIDIA Intel SLI XE chipset.
Click image for larger picture
The new chipset targets mainstream solutions for the Intel® customers who wishes to experience SLI without denting their wallet since the currebt NVIDIA* offering right now is a bit steep for the enthusiasts. The introduction of this chipset will truly ensure that all market segments, from value to mainstream to performance users will entirely be covered.

Compared to the current high end offering (NVIDIA Intel SLI X16), the NVIDIA Intel SLI XE chipset has 20 PCIe lanes (vs 40 PCIe lanes) and 2x8 SLI support (vs 2x16 SLI support). However, NVIDIA Intel SLI X16 only offered AC97 audio while the new NVIDIA Intel SLI XE sports the new Intel® HD Audio. Some people will be anal about how high end users will skip the integrated audio in favor of discrete solution, however it is always a good thing to lessen your cost but still maintaining good quality audio solution and Intel® Azalia is not a cheap performing one and even setting the standards for onboard audio solutions. Besides, not everyone can affort all high-end parts for their rig, and there will always be people who will run short of the dough and make do with the integrated solutions. The new NVIDIA Intel SLI XE also supports all the latest processors from Chipzilla, from the top of the heap Intel® XE to the lowly Intel® Celeron® D.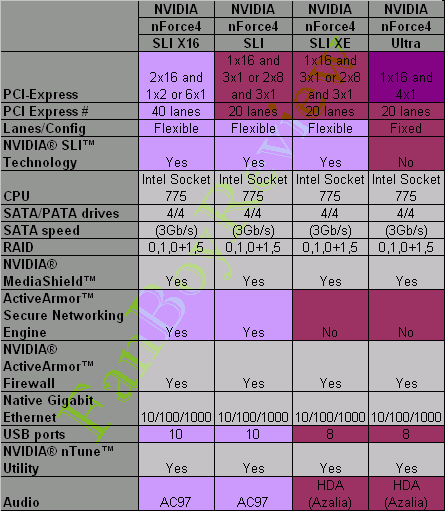 Below is the official Press Release from NVIDIA*



New NVIDIA nForce® MCPs Bring High Performance, Low-Priced Solutions to Intel PC Market





New Top-to-Bottom Solutions Support All Intel Dual-Core CPUs



For further information, contact:

Bryan Del Rizzo
NVIDIA Corporation
(408) 486-2772
bdelrizzo@nvidia.com



FOR IMMEDIATE RELEASE:





SANTA CLARA, CA—JANUARY 17, 2006

—NVIDIA Corporation (Nasdaq: NVDA), the worldwide leader in programmable graphics processor technologies, today announced the NVIDIA nForce4 SLI XE and NVIDIA nForce4 Ultra media and communications processors (MCPs). Together with the award-winning NVIDIA nForce4 SLI X16 MCP already available, NVIDIA is now providing its system builder and do-it-yourself (DIY) communities with two, new, lower cost, discrete motherboard solutions for Intel® PC platforms. All three are compatible with all currently available Intel dual-core CPUs, including the new Intel Pentium® Extreme Edition 955.

In addition to providing cutting-edge features—including advanced storage and security capabilities and support for high-definition audio—the Company has also dramatically lowered the entry point for those interested in building multi-GPU PC platforms using Intel CPUs. With an expected retail price of less than $100 USD for NVIDIA nForce4 SLI XE-based motherboards, consumers can now take advantage of the acclaimed NVIDIA® SLI™ technology and install two graphics cards immediately for scalable gaming performance, or use the second PCIe slot for other PCIe devices or future expansion. Targeted for single-GPU configurations is the NVIDIA nForce4 Ultra MCP, offering users a solid platform with more features and performance than alternative motherboard products that also have a retail price of around or less than $89 USD.

"Our core-logic business is a strategic growth driver for NVIDIA, and these new products allow us to capitalize on these high-volume Intel segments," said Drew Henry, general manager of MCP business at NVIDIA. "With a top-to-bottom product family including NVIDIA nForce4 SLI X16 for the high-end enthusiast, NVIDIA nForce4 SLI XE for those interested in performance, and the NVIDIA nForce4 Ultra for more general PC usage, we are excited about our opportunities and the potential growth for our MCP business group."

Together, the advanced architecture of the NVIDIA nForce4 MCPs and the dual-core capabilities of the latest Intel Pentium processors provide a compelling technological foundation for driving today's hottest games and demanding digital media applications, including the playback of high-definition video.

PC OEMs, system builders and motherboard manufacturers, including Biostar, ECS, Epox, Foxconn, Jetway, J&W, MSI, and others, are expected to have retail products based on the NVIDIA nForce4 SLI XE and NVIDIA nForce4 Ultra MCPs available starting in late January 2006.

For more information on NVIDIA hardware, please visit www.nvidia.com or www.nzone.com.



About NVIDIA


NVIDIA Corporation is the worldwide leader in programmable graphics processor technologies. The Company creates innovative, industry-changing products for computing, consumer electronics, and mobile devices. NVIDIA is headquartered in Santa Clara, California and has offices throughout Asia, Europe, and the Americas. For more information, visit www.nvidia.com.

Certain statements in this press release including, but not limited to, the features, benefits, capabilities and performance of our nForce MCPs, expected retail cost of the new products, market opportunities for our products, potential growth for our MCP business group and the expected date of retail availability are forward-looking statements that are subject to risks and uncertainties that could cause results to be materially different than expectations. Such risks and uncertainties include, but are not limited to, development of new and faster MCPs, decline in demand for new MCPs, unforeseen expense that negatively impacts the products' price, difficulties in integration of products, changes in industry standards and interfaces, the impact of competitive products and pricing, manufacturing or software defects, and other risks detailed from time to time in the NVIDIA reports filed with the Securities and Exchange Commission including its Form 10-Q for the quarter ended October 30, 2005. These forward-looking statements speak only as of the date hereof. NVIDIA disclaims any obligation to update these forward-looking statements.

###

Copyright® 2006 NVIDIA Corporation. All rights reserved. All company and/or product names may be trade names, trademarks and/or registered trademarks of the respective owners with which they are associated. Features, pricing, availability, and specifications are subject to change without notice.

Note to editors: If you are interested in viewing additional information on NVIDIA, please visit the NVIDIA Press Room at http://www.nvidia.com/page/press_room.html