Warning:
This is supposed to be a Brag, but after writing it and noticing how long it takes my brag, I just changed the category to Article. But this doesn't change the fact that I am not really able to detail out the exact steps, and just proceeded with my experience in building the system. In any case, this should be targetted for experienced builders as the little details in building the platform were left off. In the future, I migth have to rework this article, and maybe, call it Intel® Viiv™ Review *yay*.
Wohoooo, finally, the PC is now a certified Intel® Viiv™ machine. After spending sometime tinkering with the test machine I was able to finally install all the necessary hardware and software to make this a true-blue Intel® Viiv™ PC.
Click on picture for larger version
Target Audience: E (N=Newbie, E=Hardware Enthusiast, O=Overclocker, B=Budget)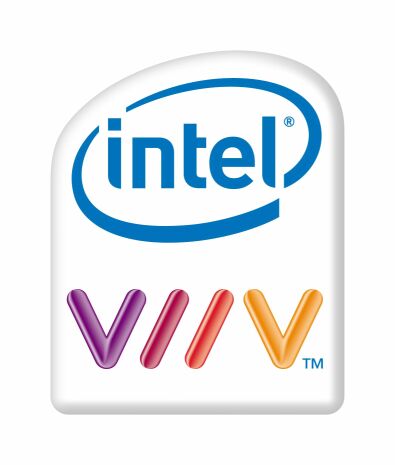 "Starting the engine"
I got the sample parts during the 2nd week of December 2005. Due to hectic testing, and other things for validation such as getting ready for the Glenwood (i975X) launch on the last week of December, and launch of several products such as Cedar Mill (Intel® Pentium® 4), Pressler (Intel® Pentium® D 9xx), Yonah (Intel® Core™ Duo), and Eastfork (Intel® Viiv™) on the first week of January, I am not able to play with the Intel® Viiv™ hardware.


"Nitty gritty"
Anyway, after putting all the parts together, I have been battling with the system to pass the Intel® Viiv™ Technology Test Utility for the past several days already. I gave this hardware a serious look at the hardware level about a week ago. I used the following parts:

I forgot what the Power Supply is and I don't really know the name of the chassis. I also have a 5.1 speakers, a TV Tuner and a remote control for both the TV Tuner and OS. I'll post the brand/model of them later on as soon as I get back to checking it. One thing that I am not provided though is an HDTV *yay* but hey, I am given $650 to look for a decent HDTV. I don't think I can get a high end for that amount, so I'm thinking of just asking for $650 more so I can get a cool HDTV.


"Test driving"
So with all these provided freebies, my mindset is that I have a full pledged Intel® Viiv™ platform. After finishing all the other trivial tasks I had after the successful launches of the products (such as doing the final report out and pending improvements) I prepared to spend quality time with my new baby that's starting to collect dust in the corner. The first would be to verify if it will pass the test utility. Since it came from the core team that designed the platform, my assumption is that this is a certified Intel® Viiv™ platform. I downloaded the latest test utility, and fired it up. Alas, all but one test failed. The only test that passed was the LAN test.

The Intel® Viiv™ test utility checks several items to ensure that a platform is certified. The items being probed are:

Processor


Chipset


LAN


Other [Audio, Hard Drive, Software, Battery]
"Breakdown"
Knowing that I have an early board i.e. engineering sample, I quickly opened up a retail boxed motherboard, thinking the chipset was messing up everything. After playing with the complicated connectors, headers, and other necessary power connectors (man, this setup has just too much cable) and bolting the BTX fan, I fired the system up again. I still encountered the same problem. So I did what was logical (I think) and downloaded all the necessary software, mainly for the motherboard chipset and even updated the BIOS. The test still failed, on all except LAN.


"Back into action"
At this time, I am focusing on ensuring the chipset passed the test since the "Other" test results mostly failed as well. I downloaded all the newer QRTD drivers and still got the same result. Since I can't make it pass, I just decided to give myself a consolation and ripped open a retail boxed Intel® Pentium® D 820. I am pretty sure I'll get at least two items passing the test, at least, I am making progress (that's what I'm telling myself). After installing the new processor, I fired up the system and run the test utility. And surprise, I got all three(3) major tests passed.


Light at the end of the tunnel
Woah, that's an interesting turn of event. At this point in time, I am thinking the test utility somehow will bypass the chipset test as soon as the processor testing failed. While I am not 100% certain about this, I have strong reason to believe it is so. Just to verify my test, I put back the ES processor and failed all test again but one. I put back the retail boxed processor and passed all but one!!! I will have to report this back either to the motherboard engineer/designer and the software developer, to check why the chipset portion of the test failed when in fact, it should pass.


Smooth sailing, with a bump
After the major tests has succeded, I focused on the "Other" portion. This portion is failing due to "Audio" and "Software". While the "Audio" report is clear, "Software" report is not. After installing the latest Audio Software (not driver), only the "Software" portion of "Other" is failing. The trouble report, stating that "Software" portion has failed isn't very clear so what I did was just to check the requirements of an Intel® Viiv™ system again just to ensure I am not missing anything. There, I noticed the Intel® Matrix Storage Technology software and again, just to be sure, downloaded the latest version. And from there on, the wall prohibiting me from passing the test utility is finally broken. I now have a full pledge Intel® Viiv™ system, and I'm pretty sure I'm one of the few! Wohoooooo.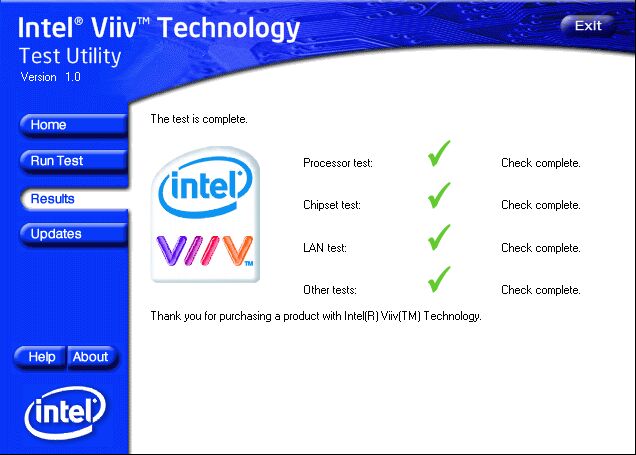 I quickly test drive if it can power up and down "that fast". I even used the remote to power it up, wohooo, I'm uber (err....). Anyway, initial powering up is "normal" like what you would see with a PC. But after the system has power up, I switch it on and off and it functions like a normal CE (consumer electronic) device like your TV or Radio. I navigated the OS via the remote, played music, and watched sample movie such as Tom Cruise' War of The Worlds. The experience is stunning indeed.


In closing
Making your own Intel® Viiv™ is both very challenging, fun, and exciting. I can't say I never ran into quirks, but those are really quirks that "normal" users won't encounter "normally". This is because some of my parts were Engineering Sample, and if you are buying one from your favorite retail store then you'll be head-ache free since your parts will all be production version. And what's even better, all your parts will be officialy supported by Intel® worldwide. You will have a 24x7 tech support, and of course, three(3) years warranty on motherboard and processor which is great.

However, with this system, I can not recommend first time and inexperienced builders to integrate one unless you're not going to play with all the Intel® Viiv™ features. Unlike regular PC, you can not build an Intel® Viiv™ without meeting all the necessary requirements. In a regular PC, it can be built with a single ATA drive, but with an Intel® Viiv™, you can not. So just to skip the frustration, I am only recommending a DIY Intel® Viiv™ for experienced users. And oh, I chose a BTX system to ensure it is silent and cool.



For those who do not have the patience to tinker with the hardware, Intel® Viiv™ has many ready-made platforms. In fact, there are many manufacturers shipping a built system based on this platform already. To get you started on the available goodies, check this gallery.

And finally, for those looking for benchmarks, I did thought of that. I then decided not to post it since my focus is about a DIY Intel® Viiv™ Platform. But in the next revision of this article, I'll add a section about benchmark. Till then, hope you enjoy this brag-turned-article blog.