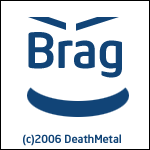 I just installed
meebo
after a few nudge from friends forced me to do such. Not that I like to chat, but I like technology it does look cool to implement. You can find it on the right side of the site, scroll down a bit to access it. Expand for more...
This utility is very nifty and very easy to use. What I love about this (and not that other software or web tool doesn't have it) is the simplicity to implement anonymity(hiding your IM account for example) but allows communication to guests, and yet, still get to have chance to chat with your friends whom you trust will not just spam you.

It's a relatively "young" web gadget, but definitely working right now. I still haven't gotten the chance to fully give this a full spin, aside from testing two(2) simultaneous chats from my web visitors, and still maintain my IM contacts as well. It also supports AOL, ICQ, Yahoo, and Jabber or GTalk. Very very nice!

Give it a try, put one on your website or blog now!