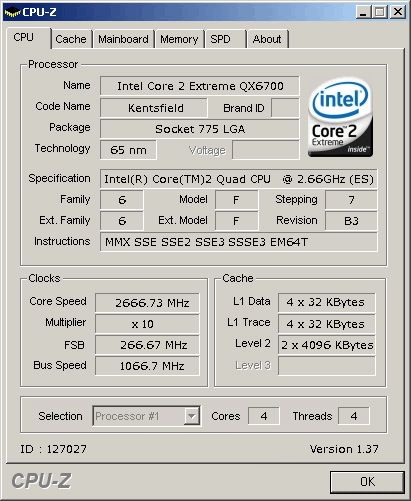 To quell the curiosity, I am posting a CPU-Z validation of my Kentsfield Extreme Edition. I did mentioned it several times that while I have some, with the recent typhoon, I don't have enough time to play with it. It's been tough, for the past six(6) days, we don't have electricity. But we finally got "clean water" already yesterday so that solves 90% of the problem, the remaining 10% is just a matter of getting power at home. (Click on the image for the full version or expand for more).
In any case, I still haven't gotten time to play with (yeah, I said it already), so I figure I'll just post a CPU-Z validation. I'll post some really badly needed previews later on so that I can at least keep to my own target of posting an article I made and not just some news posting across the web.




Till next post, for now, hope the validation make do and tide you over and thanks for visiting the site again, and again, and again...