One my news post that was lost due to some Blog problems. Anyway, it's a bit old right now (you know, how benchmarks records kept getting broken almost everyday, it's becoming a norm) so if it isn't the latest, just shoot me a PM or a ShoutOut.
The World Record was achieved with the help of an Intel® Pentium® M 780 combined with Asus* CT-479 adapter, slotted with an Asus* P4GD1 Motherboard. Yeah, that same motherboard I reviewed over at TipidPC (sorry, I can't find the link anymore). This processor + motherboard + pcie video card combo has become the toughest combo with benchmarks to date. The only reason Dothan isn't topping the charts of other 3DMark benchies suck as 3DMark03 and 3DMark05 is because of the lack of SLI-capable motherboard to support this mini-wonder.

In any case, people have been flocking to Yonah now that AOpen* will soon be releasing a Yonah-based motherboard that will support Crossfire. And even as this next-generation mobile power is landing on the palms of the enthusiasts, they are also drooling over the upcoming Merom processors.

Hmm, how I wish I can post my Yonah and Controe results...I guess one drawback of getting all the nice stuff in advance is being silenced to speak of it until NDA has been lifted off.

So here's a screenie of Hipro's screenshot, the overclock that broke the record he also owns yay.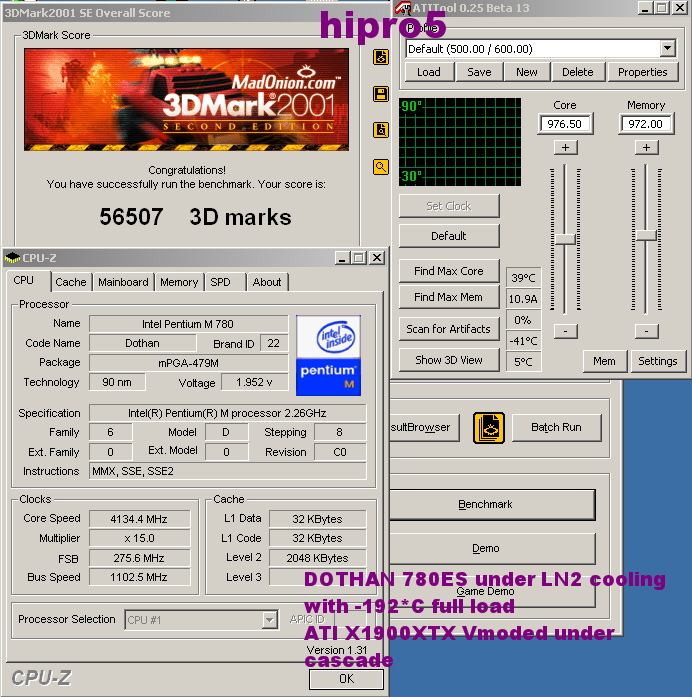 Source:
XS