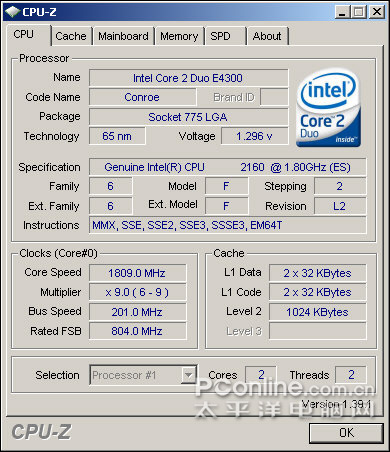 The E2160,
which I posted sometime ago that can overclock to 100%
, is now loose and ready for public picking and benchmark is now posted on the web. AMDTech's DailyTech posted a news about a
Chinese web site
comparing the processor to the competition's 65nm flavor of A64 3600+ X2. Expand to read the news posting...
Chinese website PConline benchmarks the Pentium E2160 and E2140

Early benchmarks of Intel's upcoming Pentium E2100-series reveal the value processor doesn't fall too far behind the Core 2 Duo E4000-series, when comparing equal clock speeds. Intel is set to introduce its Pentium E2100-series processors in June with sub-$100 pricing. The new processor is based on Intel's Conroe core but halves the L2 cache of similar Core 2 Duo E4000-series, making for a total of 1MB of L2 cache.

Productivity benchmarks such as Business Winstone 2004 and Multimedia Content Creation Winstone 2004 show an approximate 1-point difference between the Pentium E2160 and Core 2 Duo E4300, favoring the E4300 – both processors have 1.8 GHz clock speeds. Video encoding in TMPGEnc 3.0 reveals a 1 second performance difference between the two processors, and again favoring the E4300.

Productivity Benchmarks
Application Pentium E2160 Core 2 Duo E4300
Business Winstone 2004 28.6 29.3
Multimedia CC Winstone 30.8 31.6
TMPG Enc 3.0 341 340


Gaming Benchmarks
Application Pentium E2160 Core 2 Duo E4300
Half Life 2 129 132
Doom 3 147 151
Far Cry 130 131
Serious Sam 2 121 130
Quake IV 81 82

Gaming performance with a GeForce 8800GTX show small performance differences as well. Games such as Half Life 2, Doom 3 Far Cry and Quake IV show minimal framerate differences around 1-4 FPS, at 1024x768. Serious Sam shows a larger delta at 7 FPS, favoring the Core 2 Duo E4300.

Intel Pentium E
Model Core Frequency L2 Cache FSB Q3'07 Pricing
E2160 1.80 GHz 1MB 800 MHz $84
E2140 1.60 GHz 1MB 800 MHz $74

Expect Intel to unveil the Pentium E2100-series in June with two models, the E2160 and E2140 clocked at 1.8 GHz and 1.6 GHz respectively.


Source:Pentium E2100-series Benchmarks Revealed

There's also another benchmark run over at XTReview.