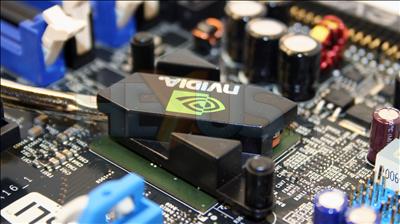 If you have got to have a native SLI-capable motherboard, I guess you'll have to give this one a look. The motherboard satisfies the reviewer and the only complaint was availability. Check it out...
For the BIOS and overclocking alone, NVIDIA's partner-branded nForce 680i SLI boards deserve to do very well. Performance is where it should be with the components tested, the board is feature rich and the added software layer to nForce really does add something extra if you make the most out of it. The chipset doesn't move the game on any when it comes to built-in or augmented features, however it doesn't lack anything the competition gives in other than port counts. The board layout is great for this reviewer, the active cooling is quiet enough if you want to make use of it and the bundled bits are what you'd expect.

Therefore the only real problem with the product at the time of writing is availability and price. A faintly disgusting £190 or so in the UK, current prices, means the board makes little sense unless you must have the latest and greatest, or you crave the overclocking features and performance and can't wait for the price to drop. Compared to $250 in the US, those of you reading from the UK are being bent over for the board currently. "You get what you pay for", seems a little off, if it's just for overclocking performance, although you can be sure some will pay it regardless.

So when the board price drops and 680i SLI becomes a bit easier to get hold of, we see no reason why it doesn't automatically become the enthusiast core logic of choice, with the eVGA example a fine place to put your investment, in our opinion. We like almost everything bar the price, and although we were expecting a bit more from the core logic at stock clocks, stock clocks is arguably anathema to what the board is all about. Those 500MHz CPU bus frequency overclocks, paired with unlinked memory clocking and generous voltage adjustment in order to get the most from the mainboard and the devices plugged into it, are what it was designed for.

Well-heeled tweakers and overclockers will likely pick them up as soon as possible, the rest of us wait for something a bit less than £200 as the asking price, at least in the UK. The sum up: nForce 680i is a feature-rich, high-end core-logic set with outstanding out-of-the-box overclocking ability, great controlling software and, at least in this instance via eVGA, it'll be found on a well-designed board with a sweet layout.
Source:
eVGA nForce 680i SLI LGA775 motherboard