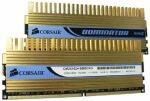 Corsair
has a contest going on that will let FanBoyz (and non FanBoyz alike) get a hold of a custom Gold Plated Dominator 2GB DDR2-8888 memory kits. For some reason, there are four eight's (8s) in there so I am not really sure if it meant DDR2-8888MHz or maybe they meant PC2-8888 (which means DDR2-1111MHz).
In any case, if you are good with essays, why not check it out and see if you can bag one of those custom-made (and I assume, limited) Gold Plated DDR2 kits. Expand for more...
Celebrating the company's 1 millionth premium module shipped in 2006, Corsair will offer 5 custom 2GB DDR2-8888 gold-plated DOMINATOR memory kits as contest prizes for the "Why I Love Corsair" 200-word essay contest.

Press Release

Essay contest details:

Contest runs from November 1 to November 14, 2006. All entries must be received before November 14, 2006.
Prizes: 5 sets of gold-plated DDR2-8888C4DF DOMINATOR memory kits
To enter, email the essay to contest@corsairmemory.com
Maximum essay word count limit: 200
Winners will be announced on Corsair.com on December 1, 2006.
Source:
Enter the "Why I Love Corsair" Contest