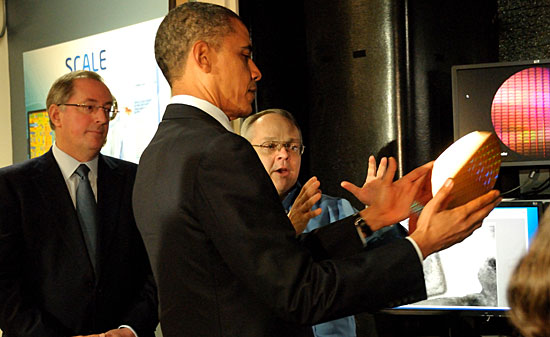 Future At Intel
- three strong words, summarized into one word = Awesome! Intel hosting one of the world's most powerful man on Earth is just uber pimp. President Obama visited Intel to emphasize how technology and innovation can make for better future. President Obama met with CEO Paul Otelinni who announced that Intel will build a new Fab at Arizona. This means more employment, not to mention more Fab means better output for Intel and better output means more mass-produced processors and that could lead to even more cheaper and more innovative products! Check out the video at the White House Blog below...
The White House Blog

Weekly Address: Winning the Future at Intel

Posted by Jesse Lee on February 19, 2011 at 05:30 AM EST

The President speaks from the Intel campus in Oregon about educating our kids for the jobs of tomorrow so we can make sure America wins the future.
Source:
WhiteHouse