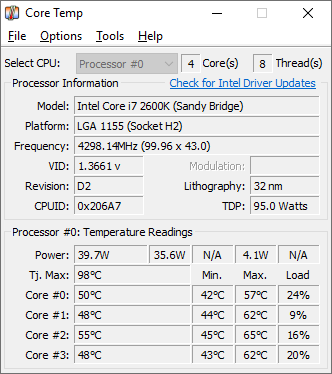 Well, I know I'm late but hey, better late than never. Anyway, since I am "trying" to come back in being active with Blog and in the tech community, I have started to visit my old favorite sites. It's a good timing I guess, as I'm just a few days late about the cool new updates from CoreTemp author. Aside from the latest CoreTemp 0.99.7, there's also a new Core Temp Gadget 2.3!
This cool little add-on looked really nice on my Win7 desktop and I'm like "Ohh, schweeetz!" I suggest you go and grab 'em coz they are not only hot, they are
FREE!
I mean, with such cool software costing nothing, not even crippled, but a full-blown, no fuzz software, this is totally awesome! Grab it!!!!!!
Version 0.99.7.7 - 29th July, 2010

- New: Core Temp FAQ is now available online, see About Core Temp dialog.
- New: System tray icons for CPU speed and CPU load - see System Tray setup under Options.
- New: Support for the latest mobile AMD processors.

- Fix: Multiple "Fail" messages when the computer exits sleep or plugged into/unplugged from power (laptops).
- Fix: Several mobile Intel processor recognition issues.
- Fix: When disabling Windows 7 Taskbar feature with Cycle mode, icons still continue to cycle.
- Fix: Windows 7 Taskbar settings UI bug.

- Update: "Start with Windows" function in Vista and 7 now works on a per-user basis.
- Update: Change the time and date layout of the log file name to YYYY-MM-DD HH-MM-SS.
- Update: All of the readings logged are now numeric only.
- Update: In single instance mode, the previous instance will be brought to the screen.

- Known issue: Core Temp may stop responding for a period of time or completely lockup on some systems when switching between power supplies (wall/battery) or exiting sleep/hibernation mode.
Source:CoreTemp
Core Temp Gadget 2.3

This is a sidebar gadget for Windows Vista and 7 for use in conjunction with Core Temp. There is not much to say about it, I think the screenshot speaks for itself.
the gadget requires Core Temp 0.99 or higher to be running for it to work.
If you liked the gadget please rate it on the Windows Live Gallery.
Download
Source:CoreTemp Addon